The Ilex Wood
Regular price
Sale price
$24.00
Unit price
per
Sale
Sold out
Vegan Orange and Cocoa Butter Body Balm
A Handcrafted Natural Moisturising Body Butter Cream.
An all-natural invigorating body balm crafted with cocoa butter and sweet orange and pink grapefruit essential oils. A body butter balm crafted with 100% natural ingredients.
With 250ml, there is abundant amount for lasting a long time - I cannot emphasize enough how amazing this smells; with an aroma of chocolate orange, a small amount is needed in application to moisturise all skin types. Truly scrumptious!
All packaging is plastic free and product is natural, vegan, palm oil free and cruelty free.
This product gets amazing feedback on Google Verified Reviews
Share
View full details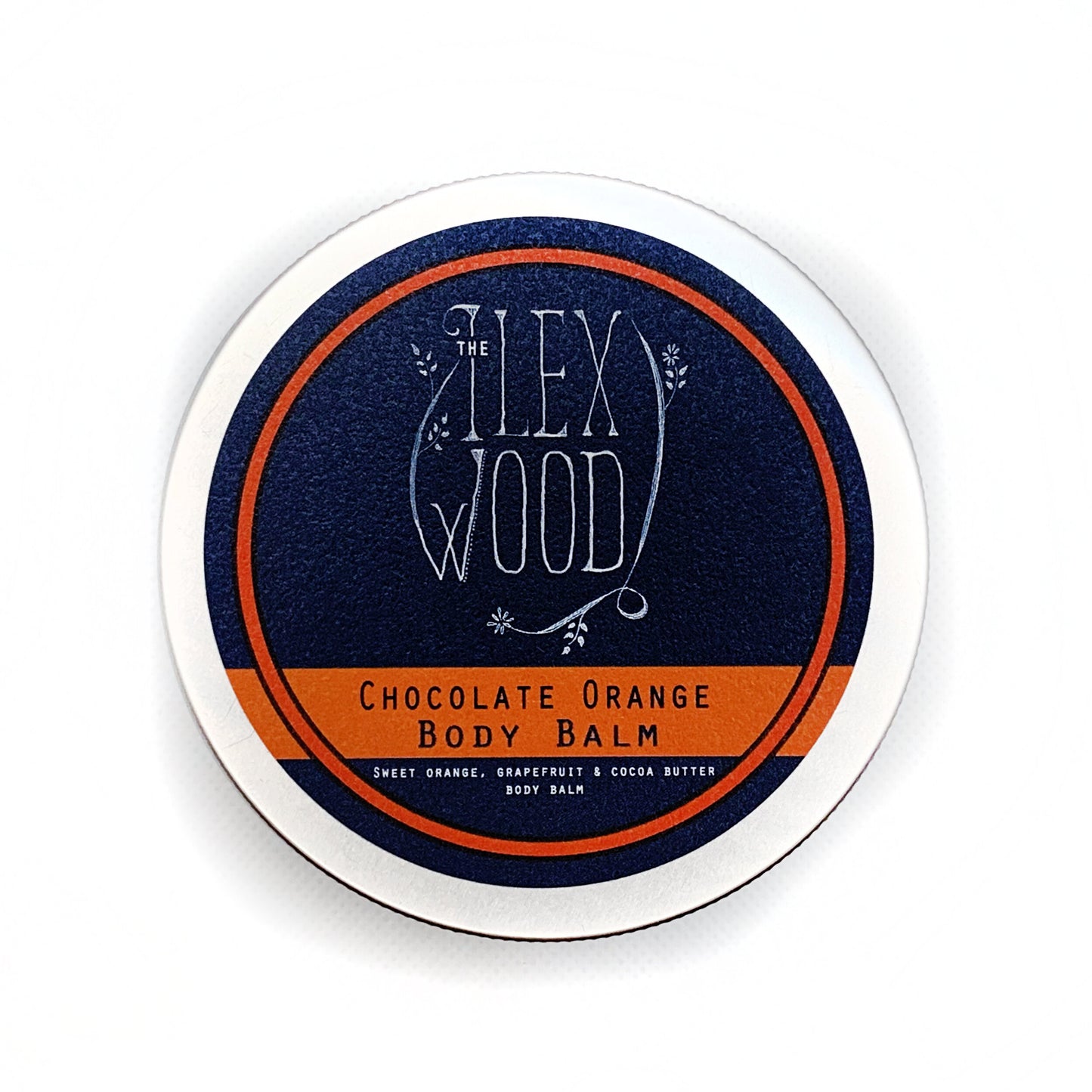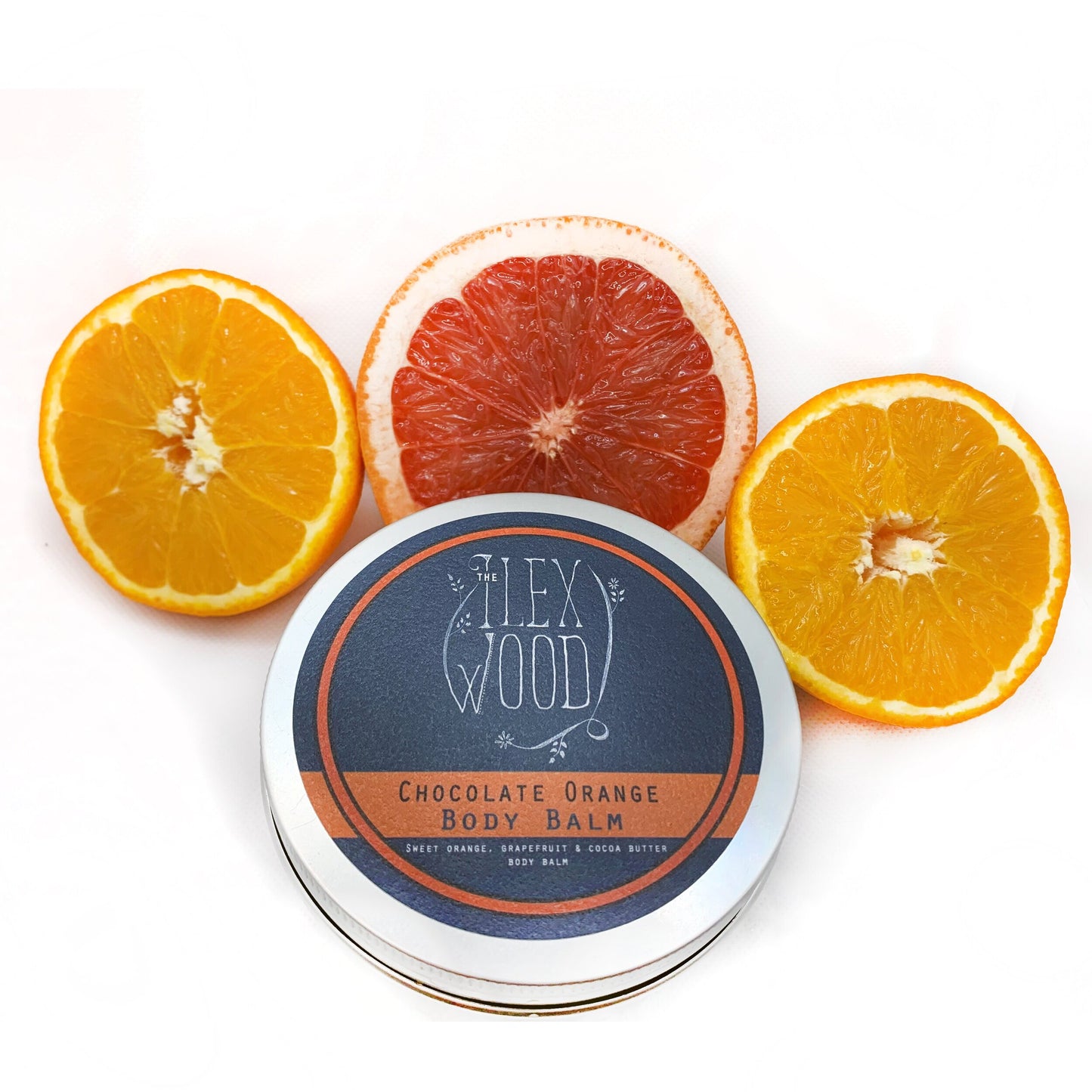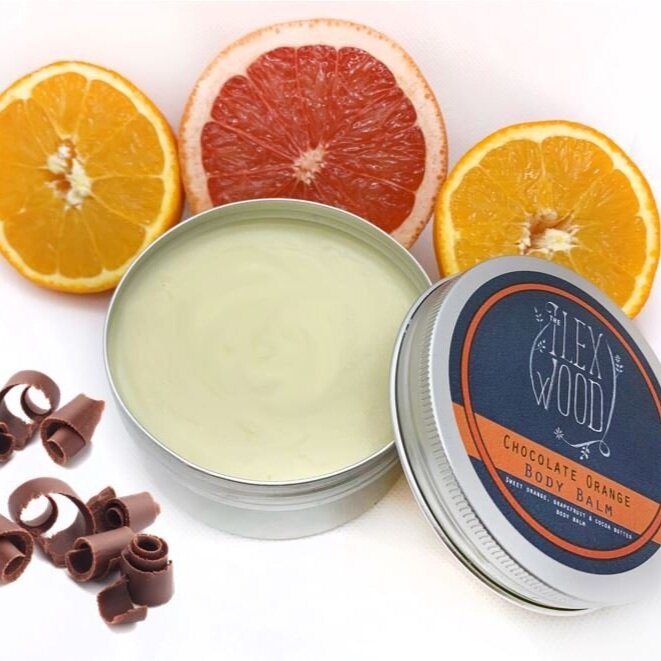 Collapsible content
Details

Formulated with sumptuous cocoa butter and sweet orange and pink grapefruit essential oil, our body balm is crafted with 100% natural ingredients to invigorate and moisturise. 

Using three super plant-based butters – Cocoa, Shea and Mango – this water-free body balm gives your skin the moisturising treatment it deserves.

Cocoa Butter gives this balm is chocolatey scent, and paired with the sweet, citrussy essential oils of orange and grapefruit makes it smell as delicious as your skin will feel.

Not only does the balm have a luxuriant scent, but the ingredients used have some superb skin smoothing qualities too. Intensely moisturising, a small amount applied each day will leave your skin feeling silky, toned and smooth.

Benefits of the key ingredients :

Cocoa Butter

Cocoa Butter is packed full for fatty acids and is an excellent emollient for skin that promotes collagen production and improves the skin's elasticity. Made from Cocoa beans, the butter is well-known for its ability to help reduce the appearance of scarring and stretch marks.

Shea Butter

Like Cocoa Butter, Shea Butter is a fantastic moisturising ingredient. High in Oleic Acid and Vitamin A, Shea helps protect and soothe the driest of skin.

Mango Butter

This luscious and creamy butter is smooth and easily absorbed. Stashed with vitamins, Mango Butter softens the skin and helps tone and soften.

Sweet Orange & Pink Grapefruit Essential Oils

These uplifting essential oils are sweet, invigorating and refresh both the body and mind. Both oils help tone the skin and boost circulation. Grapefruit has been known to assist in reducing the appearance of cellulite and orange is full of vitamin C and antioxidants that support the skin's repair process.
Great for...

Dry skin
Hydrating skin
Reducing appearance of strect marks and scarring
Reducing appearance of cellulite
Toning and smoothing skin
How to use

Apply to whole body and massage in.

Best used after showing or bathing.

Products are tempertaure sensitive. Keep at room temperature and out of extreme heat or cold.

External use only. Keep out of reach from children
Ingredients

Butyrospermum Parkii(Shea Butter),
Vitis Vinifera (Grapeseed Oil),
Simmondsia Chinensis (Jojoba Oil),
Theobroma Cacao (Cocoa Butter),
Mangifera Indica (Mango),
Alpha-Tocopherol (Vitamin E),
Citrus Aurantium Dulcis (Orange),
Citrus grandis (Grapefruit)

Limonene, (naturally occuring in essential oils
"Fantastic service, fantastic products. Feel truly beautiful using these"
Review by Esther A

"I've been buying prussic from Ilex Wood for a few years now and won't use anything else for my skincare. The lemon and bergamot cleansing balm is so effective without being drying. Great small business, excellent products and customer service. Well worth the buy!"

Review by Lisa S

"The lemon balm and peppermint lip balm has become a firm favourite. It keeps my lips in great condition and keeps cold sores at bay. It's exactly the right consistency, and lasts both on my lips and in the tin for ages"

Review by Mags B

"The products are amazing, both my son and myself have sensitive skin and the calendula balm is magic when suffering a skin flare up. The packaging is sustainable and Holly keeps in touch with her customers on a personal level which is so refreshing."

Review by Sarah P

"Love my little pot of lushness Rose & Frankincense face cream, it smells wonderful and very little goes a long way."