Herbal Healing Salve 'Boo Boo Balm' - 100ml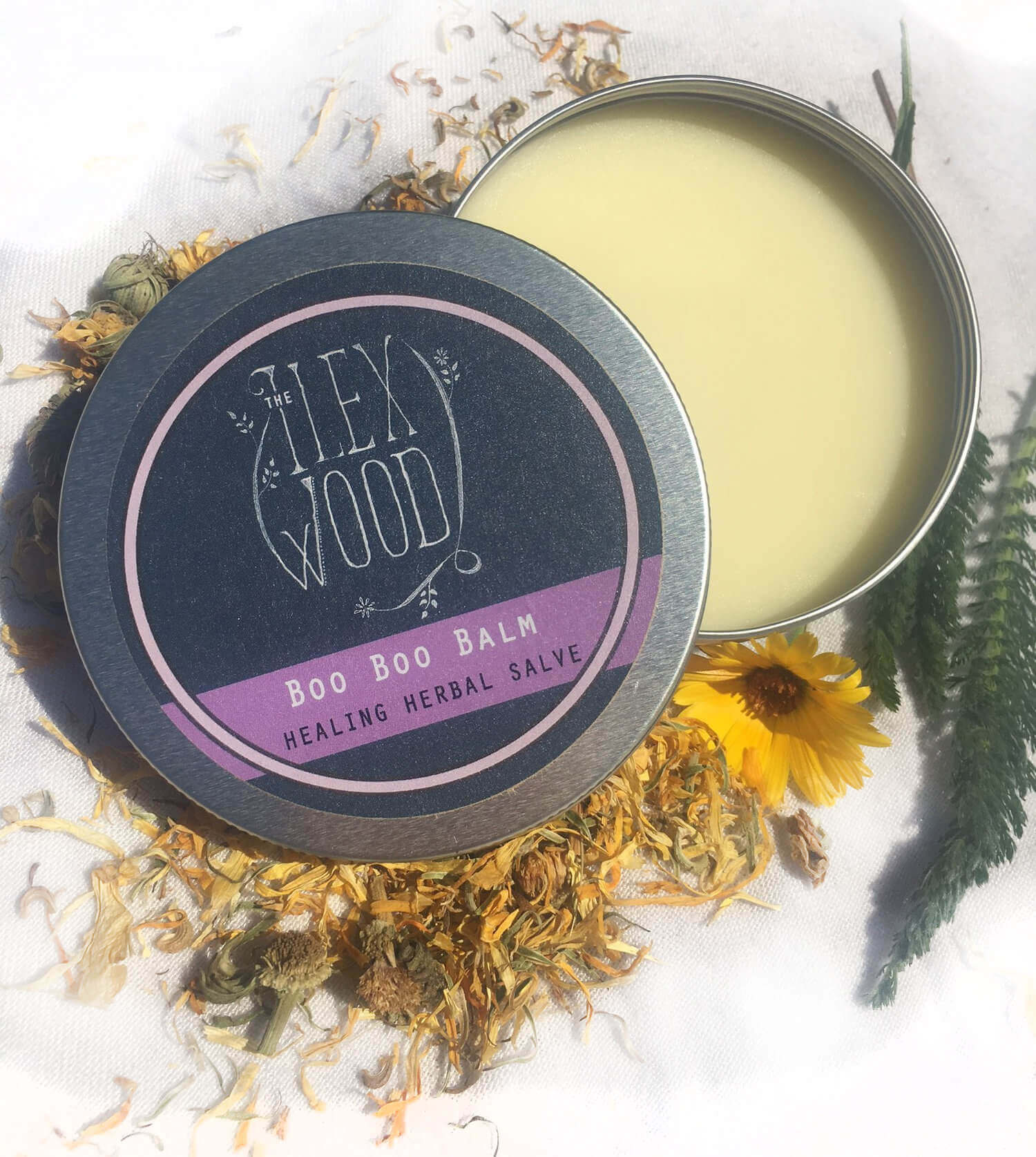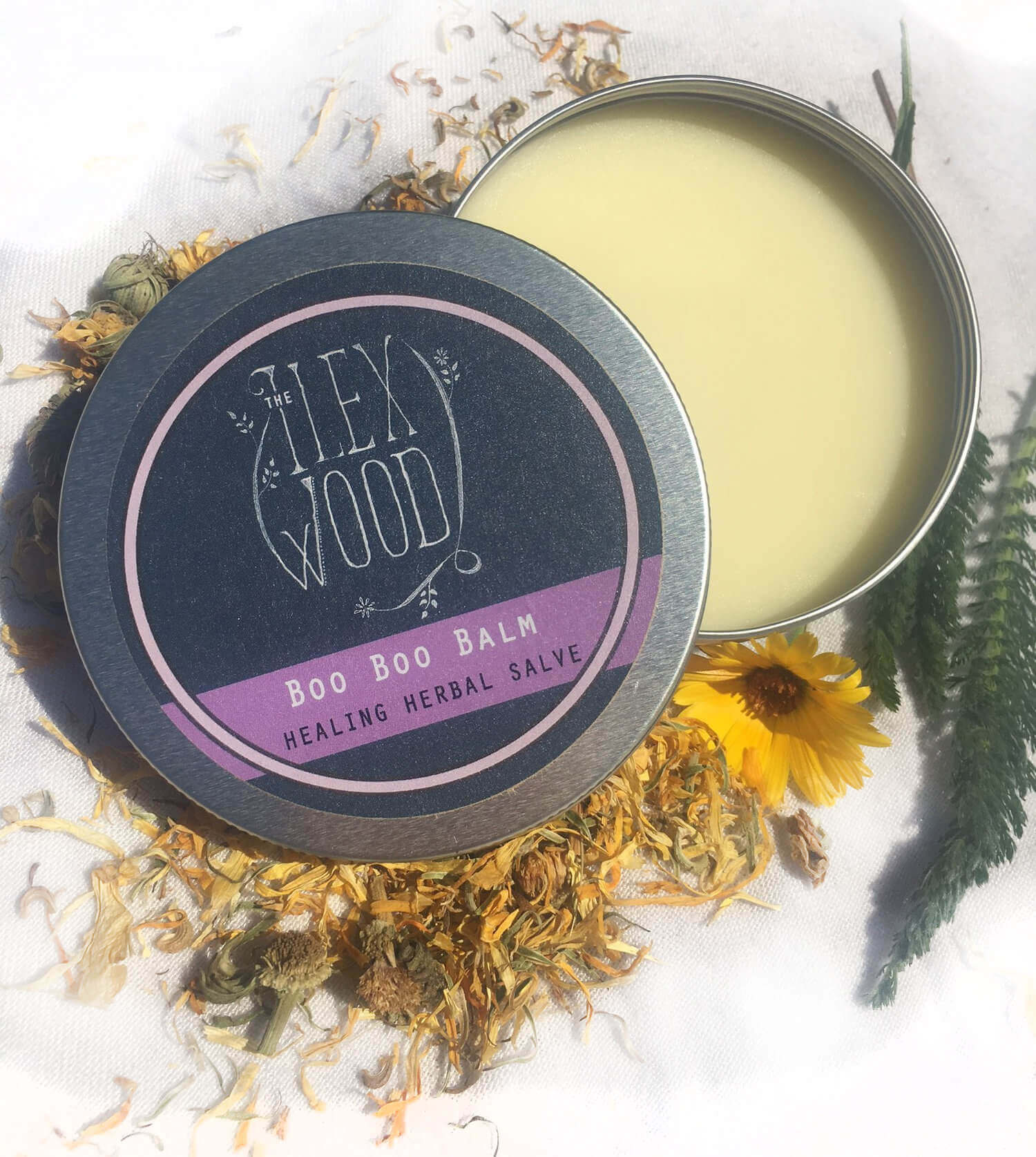 Herbal Healing Salve 'Boo Boo Balm' - 100ml
'Boo Boo Balm'
An All Healing, All Purpose Natural Herbal Salve.
Boo Boo Balm is a herbal healing salve made from herbal infusions of Comfrey, Plantain, Calendula and Yarrow.
All packaging is plastic free and product is natural, palm oil free and cruelty free.
This product gets amazing feedback on Google Verified Reviews
This little salve is packed with the power of four of our most favourite skin healing herbs.
Be it scrapes, sprains, burns or bites this salve is designed to help heal them all.
Useful information about the herbs:
The old folk name for the Comfrey plant is 'Knitbone' which gives you a bit of a clue as to what this magic plant is good for. The herb applied externally can help the healing process for broken bones, fractures, bruises and sprains. The astringent and demulcent properties of Comfrey make it an excellent wound healer.
Plantain is mostly associated as a stubborn weed you find on paths and driveways but it is one of the most beneficial plants you can find in plentiful supply. A natural analgesic (pain relieving), Plantain is perfect for offering relief from scrapes, bites and stings.
Calendula is a wonderful skin soother making it ideal for any skin inflammations, eczema, burns etc. Not only is it anti-inflammatory it is anti viral, anti bacterial and anti fungal. A good all rounder for almost any niggling skin irritation.
Yarrow is perhaps best know for its astringent qualities - in other words it helps to contract skin tissue to help ease healing and prevent bleeding. Like Plantain, this plant is often disregarded as a weed and is commonly found growing in scrub and wasteland, but is a potent wound healer not to be dismissed.
Prefer a softer, smoother texture or would rather not use beeswax? We offer a vegan version of this product using soy wax instead. Please see the following link here.
All Products are suitable for vegetarians
Ingredients List:
Prunus Amygdalus Dulcis (Sweet Almond Oil), Calenulda Officinalis (Calendula), Symphytum Officinale (Comfrey), Achillea Millefolium (Yarrow), Plantago (Plantain), Apis Mel (Beeswax), Lavandula Angustifolia (Lavender Essential Oil), Rosmarinus Officinalis (Rosemary Essential Oil), Melaleuca Alternifolia (Tea Tree), Eucalyptus Globulus (Eucalyptus Essential Oil)
All The Ilex Wood products are hand crafted and made from all natural products.
As they are all hand made with love, please allow for the occasional slight irregularity but no synthetic ingredient will ever be used in The Ilex Wood products. They will come just as nature intended!
In warm temperatures the salves and balms can melt or change texture so do keep in a cool dry place.
As with any new product intended for your skin, please carry apply a small amount before use to ensure no allergic reactions.
Do not apply internally.
Please note: This product is made from a Sweet Almond Oil so will not be suitable for people with nut allergies.
All Products are suitable for vegetarians.