The Ilex Wood
Regular price
Sale price
$13.00
Unit price
per
Sale
Sold out
Ylang Ylang & Cedarwood Natural Deodorant

An all Natural, Vegan, Aluminium Salt Free and Plastic Free Natural Deodorant.
Eco Friendly, Alcohol Free, Cruelty free for Women & Men, Handmade in UK.
Free from Synthetic Chemicals, Toxins and Aluminium.
In an environmentally friendly fully recyclable cardboard push up tube; No Fussy Plastic System - simple effective recycled paper based cardboard push up tube.
All packaging is plastic free as can be. Products are vegan, natural, palm oil free and cruelty free.
This product gets amazing feedback on Google Verified Reviews
Share
View full details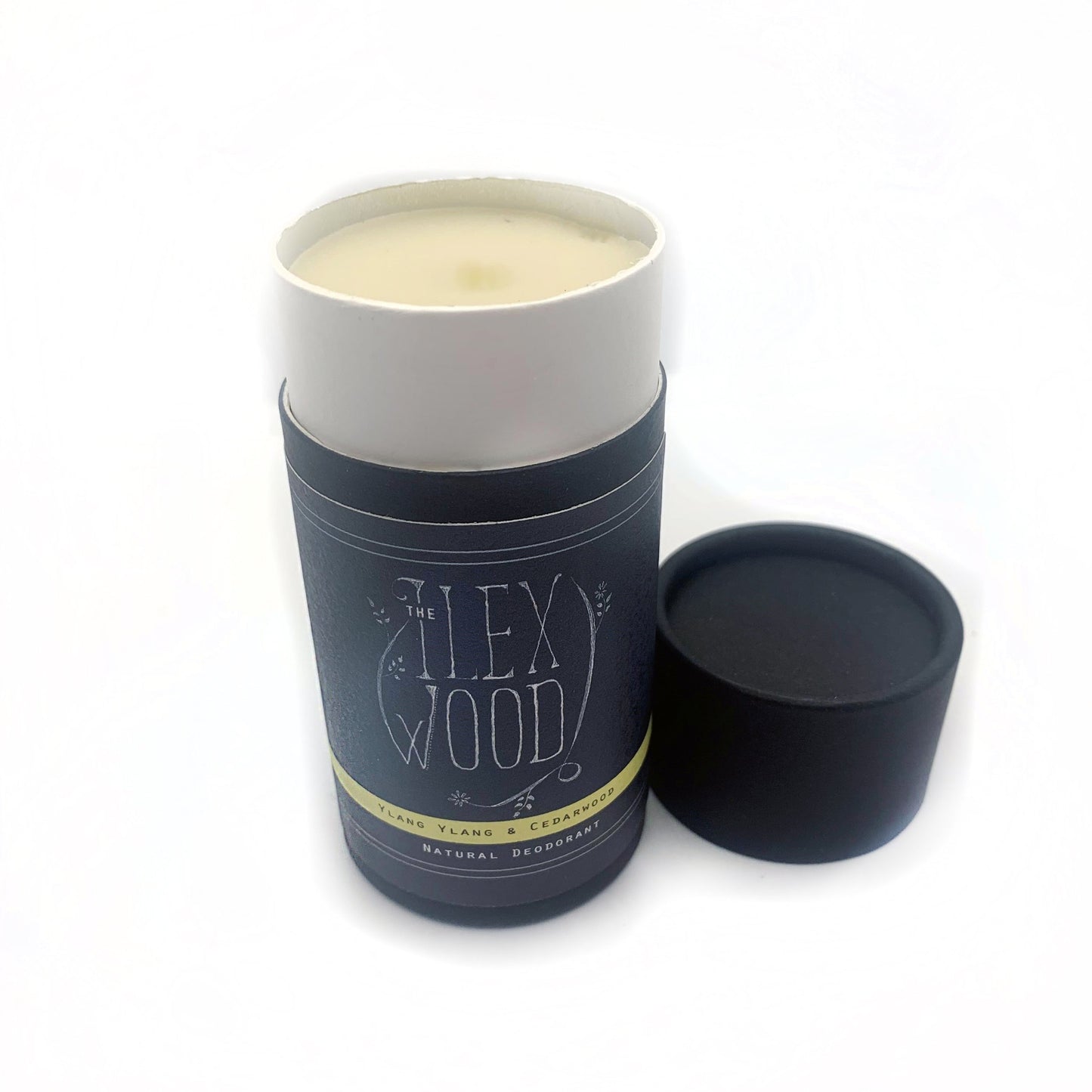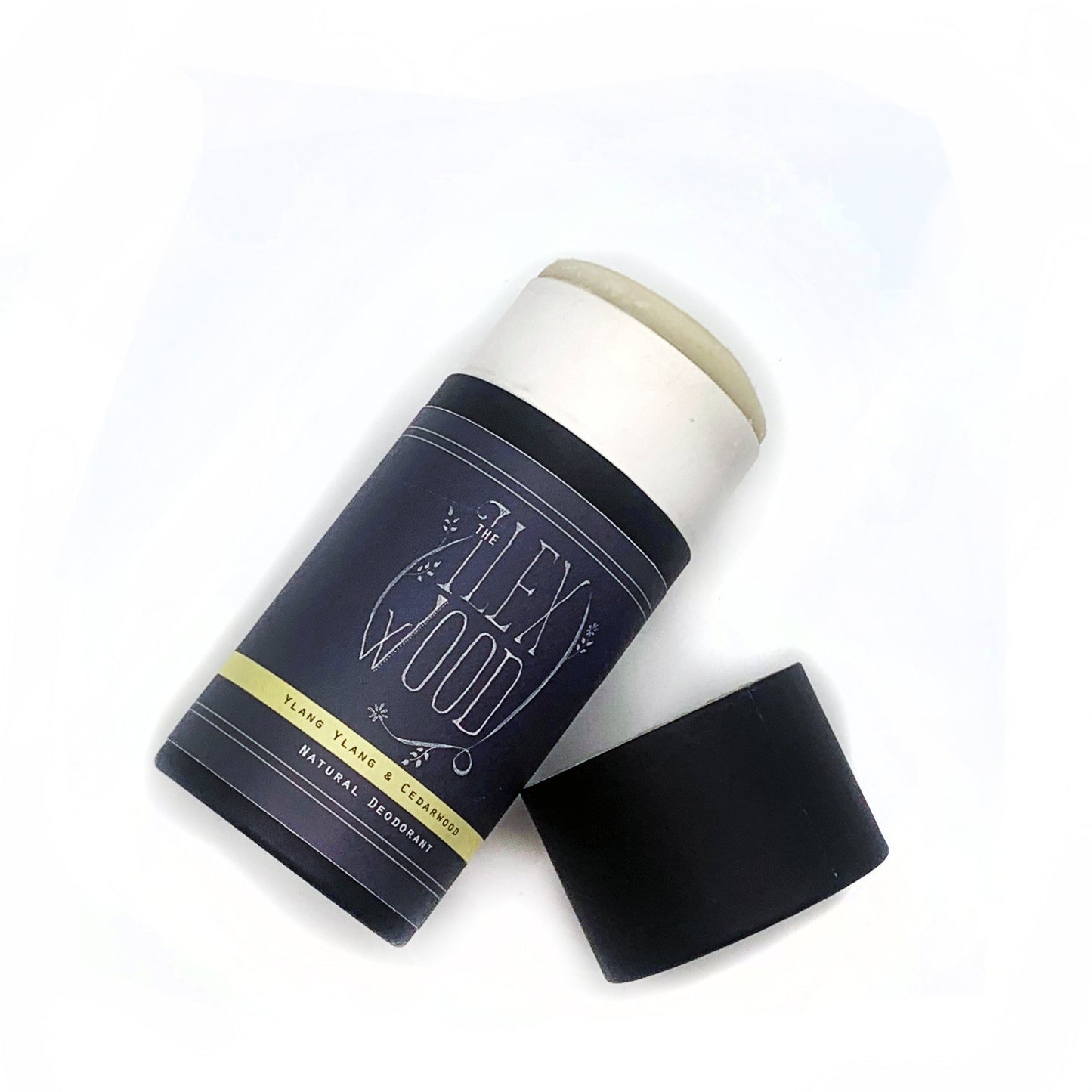 Collapsible content
Details

This all-natural deodorant has been formulated with a selection of soothing butters and oils, absorbing clay and essential oils that naturally neutralise odours. Housed in a cardboard push-up tube, this deodorant not only has the advantage of being toxin and aluminium free but is sustainable and plastic-free packaging too! Unlike most non-natural products on the market, a natural deodorant does not block your sweat glands and allows you to sweat naturally but stops the unpleasant smells.

Before we start telling you all about the fabulous ingredients included in this formulation, let us first talk about why we think you ought to ditch the big brand mainstream deodorants and switch to a natural option.

First and foremost – there is a difference between a deodorant and an anti-perspirant. A deodorant does exactly what the name suggests. It 'deodorises' the bad smells associated with sweat whereas an anti-perspirant stops the sweat altogether. And the only ingredient known to stop perspiration altogether is aluminium.

Aluminium salts are what you'll find in all anti-perspirants, and it works by plugging the sweat glands stopping any perspiration whatsoever.  Effective, however aluminium has been linked to various nasty diseases including breast cancer and Alzheimer's. It is for this reason many of us have been looking to alternatives and embracing our natural sweating but minimising the odour that comes with it.

So let us take a look at what's in this deodorant that can help keep you smelling sweet without blocking those glands!

Sodium Bicarbonate: A natural anti-bacterial salt that acts as the active ingredient here to neutralise and stop bad smells. The PH of sodium bicarbonate is alkali which helps counterbalance the acidic sweat. On its own, sodium bicarbonate can be an irritation to skin however we have carefully paired it with moisturising oils and butters to allow the bicarb to do its job without irritating your skin.

Essential Oils: A holistic and bright bunch of essential oils have been carefully selected based not only on their pleasant scent but also their natural anti-bacterial properties and the BO busting abilities. Ylang Ylang is a favourite for tackling body odour and gives the product a sweet scent and the Cedarwood gives a woody contrast to the sweetness. Also included are grapefruit, tea tree and patchouli – all perfect for fighting odour causing bacteria.

Moisture absorbers: To help soak up some of that sweat the deodorant contains natural kaolin clay and arrowroot powder. Both these elements take on the moisture and help to absorb excess sweat. Kaolin clay helps draw out toxins and unblocks pores so is great for detoxifying your armpits after years of anti-perspirant use.

The deodorant comes as a solid in a push-up tube. Unlike a spray which can burn this product can be applied with ease. There is no roller-ball applicator either to trap hairs.
Great for...

Keeping odours at bay
A natural way to deodorise without blocking sweat glands
How to use

Push firmly but not with a hard shove at the bottom so the product lifts out the tube about 5mm.

If stuck or push out too far, simply take the deodorant tube and knock the base on a hard surface three times in succession.

Heat the deodorant at the top with fingers rubbing over to get some heat into it to soften the area to use of the deodorant if not used for a few days or for the first time .


Ensure no clothing is warn whilst applying and allow to dry before putting clothes around the area.


Then apply liberally under the arms.

The smell becomes stronger on contact with skin as again it's natural and not full of chemicals to give a first scent without application.

We use Sodium Bicarbonate in our deodorants because it is anti-bacterial and deodorising. It inhibits the growth of odour causing bacteria and keeps the skin completely fresh all day. Sodium Bicarbonate is a natural ingredient, but occasionally it causes irritation on some skin types. This is because it is an alkaline ingredient and can therefore affect skin pH. When skin becomes too alkaline, it can feel sore and uncomfortable. Skin pH can also be affected by a number of other factors such as diet, smoking, air pollution & climate so irritation can arise.

Products are tempertaure sensitive. Keep at room temperature and out of extreme heat or cold.

Do not apply to broken or irritated skin.

External use only. Keep out of reach from children
Ingredients

Butyrospermum Parkii (Shea),
Maranta arundinacea (Arrowroot),
Sodium Bicarbonate,
Cocos Nucifera (Coconut),
Candelilla Cera (Candelilla wax)
Kaolin,
Tocopherol
Cananga Odorata (Ylang Ylang),
Pogostemon Cablin, (Patchouli),
Citrus Paradisi (Grapefruit),
Cedrus Atlantica (Cedarwood),
Melaleuca Alternifolia (Tea Tree)

Limonene, Geraniol, Farnesol, Linalool,Benzyl Benzoate, Benzyl Salicylate, Eugenol (naturally occuring in essential oils
"Fantastic service, fantastic products. Feel truly beautiful using these"
Review by Esther A

"I've been buying prussic from Ilex Wood for a few years now and won't use anything else for my skincare. The lemon and bergamot cleansing balm is so effective without being drying. Great small business, excellent products and customer service. Well worth the buy!"

Review by Lisa S

"The lemon balm and peppermint lip balm has become a firm favourite. It keeps my lips in great condition and keeps cold sores at bay. It's exactly the right consistency, and lasts both on my lips and in the tin for ages"

Review by Mags B

"The products are amazing, both my son and myself have sensitive skin and the calendula balm is magic when suffering a skin flare up. The packaging is sustainable and Holly keeps in touch with her customers on a personal level which is so refreshing."

Review by Sarah P

"Love my little pot of lushness Rose & Frankincense face cream, it smells wonderful and very little goes a long way."